"A dog has the soul of a philosopher."
Plato
Dog Vision
Ever wondered how your dog sees the world? Due to overwhelming requests for more information about dog vision, we've listed some of our favorite resources that contain dog vision information. If you would like to know more about dog vision, please don't ask us- we learned what we know from these books!
The Handbook of Applied Behavior and Training, vol. 1 by Steven Lindsay

Canine Behavior: A Guide for Veterinarians by Bonnie Beaver

The Truth About Dogs by Stephen Budiansky
The human's view is on the left, the dog's view is on the right of each set of paired photos.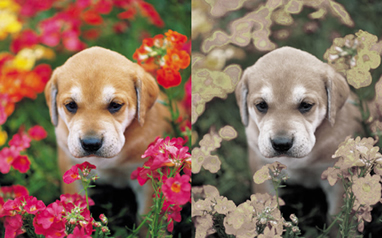 Please contact us directly for complete details about our services:
Pawsitive Training™
E-Mail: info@pawsitive.org