"A man's soul can be judged by the way he treats his dog."
Charles Doran
About Pawsitive Training™
Our Philosophy
"Primum non nocere." - First, do no harm. We believe that it is never necessary to harm, intimidate, frighten, bully, or threaten your dog in order to obtain "obedience".
We believe that dog training should enhance the relationship you have with your dog. It should be a fun experience, not only for you, but for your dog as well.
We believe that continuing education is of utmost importance to the training process. This is why we attend at least one continuing educational course or seminar annually. We do this in order to stay informed of the latest training methods and techniques, and to bring you the best training experience possible.
Our Methods
We utilize positive reinforcement techniques based on operant and classical conditioning methods. We use treats, praise, and play to motivate your dog to want to work with you. It helps to enhance communication between you and your dog. It is fun, gentle, and very rewarding for everyone involved. Find out more about positive reinforcement and the use of treats.
We can teach you how to communicate with your dog using non-verbal methods. Dogs are very responsive to this method, and you'll be, too. We can show you how to use your body language and hand signals to get your dog to do not only the basics of 'sit' and 'lie down', but also how to 'jump', 'wave hello', 'roll over', 'bark', 'take a bow', 'spin around' and much, much more!
Who We Are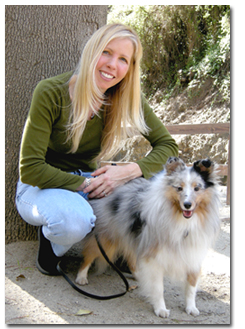 Trainer Christine Lee, CPDT-KA, has been involved with dogs all her life, from toy poodles to Great Danes. She graduated with honors and earned a Counseling Certificate from the San Francisco SPCA Academy for Dog Trainers run by Jean Donaldson. This Academy has a reputation as the "Harvard for Dog Trainers." Christine is also recognized as a Professional Dog Trainer through the International Institute for Applied Companion Animal Behavior.
Christine is a Certified Professional Dog Trainer, Knowledge Assessed (CPDT-KA). When you choose a Certified Pet Dog Trainer, you can be confident that you are working with a professional who has the knowledge and expertise to make your investment in dog training safe, effective, and even fun! Learn more about why choosing a CPDT is important.
In addition, Christine has completed a one-year dog trainer's course and has been certified as a Group Obedience Instructor through Animal Behavior and Training Associates (currently known as Animal Behavior College). She is a Professional Member with the Association of Pet Dog Trainers (APDT), an Associate Member of the International Association of Animal Behavior Consultants, a Member of the Animal Behavior Management Alliance, and is also registered with the American Kennel Club as a Canine Good Citizen Evaluator.
To enhance her education, Christine has been a volunteer with the SPCA of Los Angeles and has passed the SPCA's training course to work with shelter dogs, known as H.E.A.L (Helping Enhance Animals Lives). She has also been a volunteer with Create-a-Smile's pet therapy program.
Christine graduated with distinction and obtained her diploma for Advanced Canine Behavioral Sciences through the Companion Animal Sciences Institute under the direction of Dr. James O'Heare. The Companion Animal Sciences Institute is one of only a few schools in the world that provide advanced degree programs in canine behavioral studies.
In June 2004, Christine and her Shetland Sheepdog, Bailey, participated in a 3-day clicker training seminar titled, "Know Way, Know How: The Art and Science of Clicker Training", presented by noted clicker trainer Kathy Sdao. They also attended Kathy Sdao's "Advanced Clicker Training Workshop" as working participants in April 2006. In 2007 Christine and Bailey attended all three days of ClickerExpo in Los Angeles as working participants. In 2011, Christine attended all three days of ClickerExpo in Newport Beach with her sheltie, Piper, as working participants.
When Piper isn't sleeping, playing, or herding Christine's two young children, she enjoys practicing agility. Currently, Piper brings Christine along with her for enthusiastic agility training classes at least once a week.
Our Location
We are based in Peachtree City, Georgia. We provide group training and private training in the South Atlanta area. Working at your dog's pace, our training programs are individually tailored to accomplish exactly what you wish to achieve with your dog. More contact information>>
If you live outside of our service area, please visit the Association of Pet Dog Trainers online directory for a trainer near you.
Please contact us directly for complete details about our services:
Pawsitive Training™
E-Mail: info@pawsitive.org