"Properly trained, a man can be dog's best friend."
Corey Ford, American writer

Dog-Friendly Establishments in the San Bernardino Mountains
Want to go places with your well-behaved dog? The following list contains shops that we've confirmed are dog-friendly. Since pet policies change from time to time, be sure to contact the establishment you want to take your dog to verify that pets are still welcome. And please make sure that your dog is always on a leash when visiting!
Know of a dog-friendly "people" place? Tell us about it!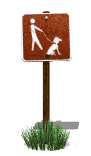 Lake Arrowhead Area
The Saddleback Inn - Lake Arrowhead. The staff absolutely loves dogs! They are very accommodating to all pet owners.
Lake Arrowhead Village - Lake Arrowhead. Check out the village with your dog on any given day, and chances you'll see many people taking their dogs out for a stroll or shopping! This is a fantastic location if you wish to work with your dog around distractions.
The following is a list of dog-friendly shops at the Village:
Big Dog Sportswear
Coach Factory Store
Coastal Cotton
Jockey International
Mountain Haus Interiors
Postal Connection
Three Dog Bakery
Wildflowers
Crestline Area

CUBY Dog Bakery - Alpine Mall, across the street from the Crestline Post Office. This superb bakery also has a fenced area behind the store where you can take your dog to train, play, or just hang out while nibbling on the fresh-baked treats!
Lake Gregory - There is a beautiful trail that goes around Lake Gregory. It is perfect for taking a leisurely stroll on leash with your dog. A dog park is planned for the south side of the lake in the summer of 2007. Check out the latest news about the Lake Gregory Dog Park here.
Downtown Crestline - Downtown Crestline is a dog-friendly area due to its sidewalks and shops along the main street! While it's not as posh as Montana Avenue in Santa Monica (an extremely dog-friendly upscale shopping area), it's the next best thing if you want to take your dog into town. We can't think of a better area to practice real-world socialization skills and training in the mountains than on this community street with your dog.