"A man's soul can be judged by the way he treats his dog."
Charles Doran
More Graduate Photos
Below are more photos of our recent graduates. All have successfully completed the requirements for our training programs. Upon graduation of any of our training programs, you can look forward to treats and surprises for both you and your dog!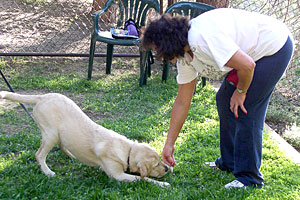 Mary demonstrates that Riley can take a bow with ease!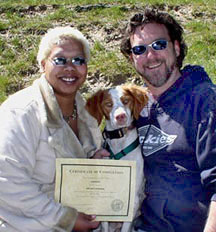 "Your trainers are awesome, informative, polite, and on time, along with patient with owners."
--- Lathedias, Jeff and Lebowski
"Keep up the GREAT work! Everything was
excellent. I enjoyed it all! "
--- William, Dené, and Baxter


Michael and Donna with graduates, T-Bone
and Farrah.
Peggy shows how Ellie learned to
roll over on a hand signal.


Mary and Riley show off their loose leash walking skills all while skillfully balancing an egg on a spoon!

"Christine was very patient and explained things well. I saw
a fast difference in my dog."

--- Jessica and Greasy
"Reggie and I both enjoyed the class
you instructed. We are working on
our skills and are enjoying each
other more. Thank you again!"
--- Sharron and Reggie


Trainer Christine Lee receives a
sincere "Thank You!" from one of
her graduates!