In our group training classes, all dog handlers are required to bring something to carry rewards in and something for your dog to lie down on. So why not make your group training experience convenient and save money at the same time?
Add a high-quality Mutt Mat and Premier training bait bag for only $30! This special offer can save you over 20% over purchasing these items separately, and only applies to those who enroll and request the Group Training Upgrade. Just indicate that you want the Group Training Upgrade on your enrollment form, list your dog's weight, and add $30 to the class fee. We will make sure that your Mutt Mat and Premier training bait bag are ready for you when you arrive at the first class!
Download a registration enrollment form here. ( .pdf- 1 page, 26 kb)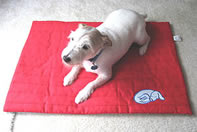 Mutt Mats are a favorite with pet owners from coast to coast. They are constructed of sturdy cotton fabric and quilted to a premium polyester batting. They come in a variety of colors with a solid color top and a coordinating plaid, stripe, check or print bottom. The embroidered Mutt Mats logo patch ensures it's authenticity and each mat comes rolled and tied with a handy travel cord. The entire mat can be machine washed and dried.
Mutt Mats come in a variety of colors; a specific color may be requested, but is not guaranteed. You may choose either medium (for dogs up to 25 lbs) or large (for dogs up to 60 lbs).
Treat pouches are available in black, blue, and red. Please indicate your color preference on the enrollment form.

Mutt Mats, Premier training bait bags, matching Premier collars and leashes, and other training accessories are available for purchase separately in class:
Medium Mutt Mats (22"x28", up to 25 lbs) - $20.
Large Mutt Mats (30"x36", up to 60 lbs) - $25.
Premier bait bags (red, blue, or black) - $14.
6' X 3/4 " Premier Nylon Leashes - $8.
6' X 3/8" Premier Nylon Leashes - $7.
Premier "Martingale" Style collars (S,M,L)- $8.
Direct Stop Citronella Spray - $8.
Gentle Leader training headcollars (S,M,L) - $20.