GoodPuppy Social Club™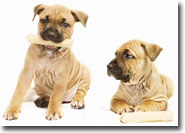 Early Learning to Promote Socialization and Good Behavior
We want to help you have a GoodPuppy™:
That is confident interacting with other dogs and people and comfortable with different sounds, sights, smells, places, and situations
That accepts leadership by people and is motivated to earn positive attention (verbal praise, petting, affection, and sometimes food) by showing good manners and responding quickly to please everyone in the family--women, men, teens, and children
That will respond quickly and eagerly to: Come, Sit, Stay, and Down
That will be a very social puppy interacting well with people and other dogs
All members of a puppy's family are encouraged to attend these classes (including children 3 years of age and older). Singles are encouraged to bring a friend to help socialize puppies to all ages, sizes, and genders.
We look forward to having your puppy join the GoodPuppy Social Club™!
Please contact us directly for complete details about our services:
Pawsitive Training™
E-Mail: info@pawsitive.org