Puppy Kindergarten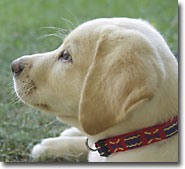 If your puppy is at least 8-weeks old, but under 16-weeks, then Pawsitive Puppy Kindergarten is the right place to start training!
Puppy Kindergarten not only teaches your pup the basics of "sit" and "down", but also teaches you how to live with your new member of the family. Our private sessions are fun, affordable, and convenient. Never worry about missing a class---we come to your home, at the time that is most convenient for you.
Puppies need to be introduced slowly to training, using fun, upbeat techniques. This helps put a positive association not only with you, but with training in general for the rest of his life. Puppy Kindergarten will teach you how to properly deal with your little furball of energy all while keeping your sanity in check. You will also be educated with the basics of how dogs learn, and how best to teach them.
Puppy Kindergarten is a five-week course, with each session lasting about an hour.
We work at your puppy's pace, using positive reinforcement — you make the choice of using either clicker training or traditional positive reinforcement. Learn about how clicker training works. We do not use choke, prong-collars or harsh corrections.
Private training in your home is done "off-leash". This allows your pup to make the decision to want to work with you - not because he's tethered at your side.
Commands taught

Commands covered during the five-week Puppy Kindergarten include:

Focusing on you
Down
Leash habituation
Proper socialization

Sit
Come
Grooming
Polite greeting

Problem behaviors covered

We also troubleshoot problem behaviors such as:

Chewing
Digging
Barking
Unruly behavior in the house

Jumping
Housebreaking
Nipping
And many others

Upon graduation of Pawsitive Puppy Kindergarten, you can look forward to fun and surprises for you and your puppy!
Please contact us directly for complete details about our services:
Pawsitive Training™
E-Mail: info@pawsitive.org