Clicks and Tricks!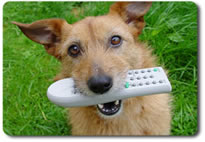 Unleash your dog's creative potential! Join us for this fun 4-week introductory course to trick training your dog with clickers. Don't know much about clicker training? This is an easy and fun way to learn about it! This course is designed for all levels of dog and owner. And if you've already been through a Basic Obedience course elsewhere, you will be certain to learn new things here and have a great time in the process!
Trick training is a great way to build a fun and lasting bond with your dog, as well as impress your family and friends. This course includes how to use clickers, how to use rewards, how to train your dog with treats (and how wean off the treats), targeting, shaping behaviors, and more! We will take you step-by-step through the process of trick training your dog. And on Graduation Day, everyone will show off their new trick to the group!
Group Clicks and Tricks classes are available based on interest. Please contact us to be placed on the group Clicks and Tricks training interest list!
Our Training Location
All group classes will take place in the training yard behind CUBY Dog Bakery at the Alpine Mall in Crestline. It is across the street from the Crestline Post Office. Please note that enrollment is by pre-registration only! There will be no on-site registration, so be sure to send in your enrollment form early.
The course will be comprised of 4 one-hour sessions, with no more than 5 dogs in a group. This course is recommended if you intend on taking our Agility for Fun classes. Clickers are included.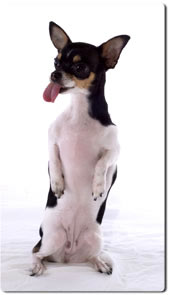 How Do I Sign Up?
The fee for each dog/handler team is $65.00 for the entire course. In order to reserve a place in class, you will need to submit a completed enrollment form and class fee to the mailing address listed on the enrollment form.
NEW! Upgrade your training experience! Add a Mutt Mat (for Go Settle exercises and Stay command) and training bait bag to your program for just $30- you can save up to $9!
Once we receive your completed Enrollment Form we will contact you by telephone. We receive many registrations and it can take a few days to receive confirmation. Please do not assume your registration was received and you are enrolled in a class until you have received a confirmation. If your first choice class is full, you will be enrolled in your second or third choice, provided there is space available. Please read our policy regarding refunds. You must present proof of vaccinations before or at the first class session in order to participate.
Please contact us directly for complete details about our services:
Pawsitive Training™
E-Mail: info@pawsitive.org