Behavior Modification
Dog Psychology 101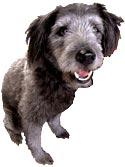 So you're happy with your dog in just about every way- he sits, lies down, even performs a few tricks- except that he has a "problem area" that just drives you nuts. This is where behavior modification comes into play.
We will create a program based on the information you give us about the problems you are having with your dog (or that your dog is having with you!). We don't use "quick fixes"; we will help you understand the underlying causes for your dog's behavior. By understanding the root of why your dog behaves in a certain way, we can help you to change his behavior. Understanding your dog's mind will also help to prevent many future behavior problems. Check out our troubleshooting page for tips on the most common problems dogs and their owners run into!
Sessions will take place in your home once a week, for approximately one hour. Some behavior modification course programs can last for as little as two weeks, but some can take as long as eight weeks. Our schedules are always flexible to match your schedule, so you and your dog will never miss out on any training! You will be provided literature and homework regarding your dog's specific problem area and how to fix it.
Please contact us directly for complete details about our services:
Pawsitive Training™
E-Mail: info@pawsitive.org